LEADERS IN EYE HEALTH
Innovators in experienced, state-of-the-art medical and surgical care for the eyes.
MEDICAL AND SURGERY SERVICES
Glaucoma Care
Protect & Maintain Your Vision with Leading-Edge Care from Doctors with Years of Experience Treating Glaucoma
At Eye Care Professionals, we have developed a practice emphasis in the field of glaucoma care, medical management, laser glaucoma treatment, and Micro-Invasive Glaucoma Surgery. Dr. Mills was the first surgeon in Northern Nevada to implant the i-Stent aqueous bypass shunt. Moreover, he was the first to perform the OMNI procedure for Micro-Invasive Glaucoma Surgery (MIGS) as well. These innovations are part of a long-standing commitment to providing excellent solutions for our glaucoma patients.
What is Glaucoma?
Glaucoma is a leading cause of blindness in the U.S., accounting for approximately 12% of new cases of blindness each year. This eye disease affects about 3% of all Americans over the age of 65, and over half of those with glaucoma don't know they have it. Glaucoma develops gradually, usually over several years, causing no pain and presenting only subtle symptoms that worsen over time. These symptoms include blurred vision, peripheral (side) vision loss, and inability to adjust your eyes to darkened rooms.
Glaucoma is a disease of the optic nerve, which delivers images to the brain. The pressure from the aqueous inside the eye is exerted on the optic nerve. This pressure, over time, harms the optic nerve in susceptible patients. 
Although glaucoma can damage your eyesight, early diagnosis, and comprehensive glaucoma treatment help minimize vision loss and maintain your vision. Early detection, intervention, and proper glaucoma medical management, are key factors in successful treatment outcomes.

Trust
Complete, High-Tech
Glaucoma Care
from Reno's
Area Leaders
At Eye Care Professionals, our eye doctors use today's most advanced diagnostics to detect glaucoma at its earliest stages. If you are diagnosed with glaucoma, we will recommend treatment based on your individual needs. 
As area leaders in glaucoma management and procedures, including laser surgery, we offer a complete range of state-of-the-art treatment options, including:
Medical management – A variety of prescription eye drops can help reduce intraocular pressure. 
Endocyclophotocoagulation (ECP) – We can use light energy to alter the eye's fluid production rate. Dr. Mills introduced endocyclophotocoagulation in Reno.
Selective laser trabeculoplasty (SLT) – Using laser energy, we modify the eye's draining apparatus to increase fluid outflow. We were among the first to perform the selective laser trabeculoplasty procedure in Reno.
Transciliary Filtration (TCF) – We use a plasma blade to create a micropore to drain fluid. We introduced this short, high-tech procedure to Reno.
Micro-Invasive Glaucoma Surgery (MIGS) – Dr. Mills was the first surgeon in Northern Nevada to perform both the iStent as well as OMNI surgical procedures for glaucoma treatment. We specialize in these and other forms of less invasive glaucoma surgical interventions. In some select cases, these procedures may result in a reduction or removal of daily eye drops being required.

At Eye Care Professionals, we are committed to delivering first-rate glaucoma management through a vast array of comprehensive treatments that meet each patient's needs. Protect your eyesight from the "silent thief" of vision. Trust our advanced methods, vast experience, and tradition of excellence in Eye Care. Call Eye Care Professionals today.
GLAUCOMA CARE AND TREATMENT
Founded in the 1950s, Eye Care Professionals has a long tradition of setting Northern Nevada's standard for excellent medical eye care. We have pioneered a variety of glaucoma procedures, and our highly experienced ophthalmologists remain at the forefront of the field.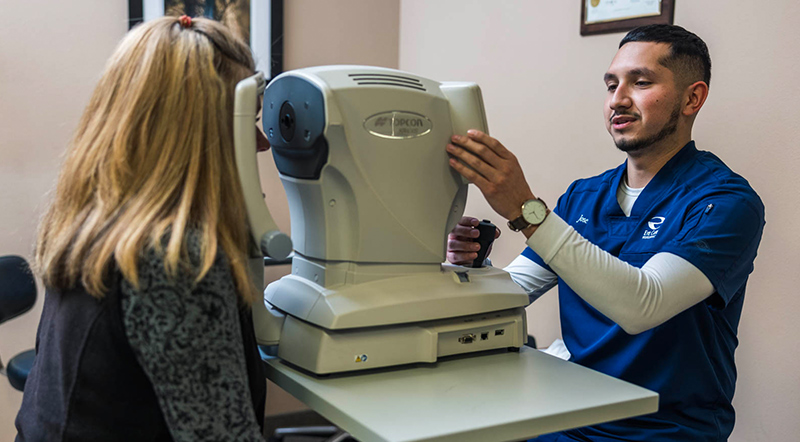 Glaucoma
Glaucoma is an eye disease that causes blindness. Early detection and intervention are key for avoiding long-term effects and guaranteeing a better quality of life. At Eye Care Professionals, we are leaders in glaucoma treatment in Reno, NV. Learn more about glaucoma – what it is, what are the symptoms, and how it can be treated.
iStent Treatment for Glaucoma
The iStent helps reduce both eye pressure AND the number of glaucoma medicines the patient is taking following the surgery. iSent is a minimally invasive and highly safe surgical procedure for treating glaucoma that results in short recovery times and successful eye restoration and preservation.