NORTHERN NEVADA'S
LEADERS IN EYE HEALTH
Innovators in experienced, state-of-the-art medical and surgical care for the eyes.
MEDICAL AND SURGICAL CARE
Medical & Surgery
Comprehensive, leading-edge capabilities
At Eye Care Professionals we strive to make every visit efficient, every exam thorough and every patient interaction meaningful in terms of your care. We offer a wide array of medical and surgical treatments for a variety of conditions. Our team of providers pride themselves in thorough exams and strive to detect pathology as early as possible to improve outcomes and allow for early intervention. To that end, our practice has invested in many state of the art diagnostic technologies which you will see on your first visit to our practice.
In addition, we offer a wide array of the most advanced surgical techniques and procedures to improve your vision. From All-LASER Wavefront LASIK to Laser Assisted Cataract surgery to Advanced Intraocular Lenses and Reading Vision Restoration we truly do have a comprehensive offering of surgical options performed with one goal in mind: Your Best Possible Vision.
EYE CARE PROFESSIONALS
LEADING-EDGE EYE CARE
For many of our patients, these advanced procedures will be performed in Northern Nevada's newest and most advanced dedicated eye surgery center, Vision Surgery Center of Nevada. Our newly constructed surgery center features the latest in technological advancements for cataract, refractive and glaucoma surgical procedures including Nevada's first Ngenuity 3-Dimensional Heads Up Display system for eye surgery. Visionary Surgery Center of Nevada itself is a center of excellence in eye surgery and represents an extension of our core practice values of commitment to excellence in all aspects of eye care.
Light Adjustable Lens
Light Adjustable Lens is the first and only intraocular lens (IOL) that can be customized after cataract surgery. The Light Adjustable Lens is made of a special photosensitive material that can be adjusted, giving you the unique ability to adjust and preview your vision until it meets your personal desires and lifestyle requirements.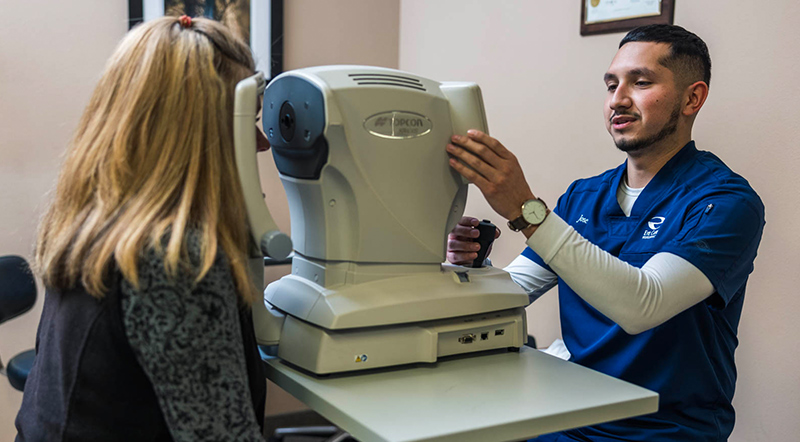 Intraocular Lens Implant
Eye Care Professionals specializes in surgically implanted lenses for the treatment of cataracts. Intraocular lenses (IOLs) are the main treatment for cataracts, yet most cataract lenses are single-focus and low-tech. With Eye Care Professionals' range of advanced IOLs, you get state-of-the-art multifocal cataract lenses that even restore your reading vision.
LenSx Laser Cataract Surgery
LenSx laser refractive cataract surgery creates a custom solution for each individual patient, making the placement of the intraocular lens incredibly precise. We were the first practice in the state to offer this advanced technique. Our ophthalmologists can carry out this procedure, that generates incredible results, while reducing surgical time, and surgical accuracy.