NORTHERN NEVADA'S
PREMIER LASIK PROVIDERS
Leaders in experienced, state-of-the-art medical and surgical care for the eyes.
ELECTIVE PROCEDURES
Financing Options
At Eye Care Professionals, we take several payment methods for all elected procedures including LASIK, Skin Revitalization, Scar Removal & Stretch Mark Treatment, and Lipiflow. We also accept the below forms of payment for anything your insurance does not cover.
All major credit cards including Visa, Master Card, American Express, and Discover.
Health Savings Accounts
Cash or Check
Care Credit on any services more than $1,200
We do not offer payment plans for elective procedures or surgeries and they must be paid in full prior to the service.
EYE CARE PROFESSIONALS
PATIENT TESTIMONIALS
I wanted to thank Dr. Mills so much for taking such good care of me for my LASIK eye surgery. I feel so lucky and blessed to have my vision clear and crisp. and I owe it all to Eye Care Professionals.  You truly do have a lovely office and staff, and I wouldn't hesitate to recommend you all to anyone in need of your service. Once again, thank you!
This has truly been a life changing experience for me. For the first time since I was a little girl I was able to see after my LASIK procedure! Not only could I see, but I could see better than I could with my contacts. It truly felt like a miracle. At my follow-up exam, I was told I now have 20/15 vision in my left eye and 20/20 in my right. Dr. Mills did it! He gave me my sight back.
I highly recommend the services of Dr. Mills and his wonderful staff at Eye Care Professionals. My cataract surgery was as pleasant an experience as one can have in a surgical situation. The surgical teamworks together like a fine tuned machine and puts the patient in a very relaxed frame of mind. These folks really know their business and are extremely professional. Highly recommended.
EYE CARE PROFESSIONALS
SERVICES
Founded in the 1950s, Eye Care Professionals has a long tradition of setting Northern Nevada's standard for excellent medical eye care. And our highly experienced ophthalmologists remain at the forefront of the field.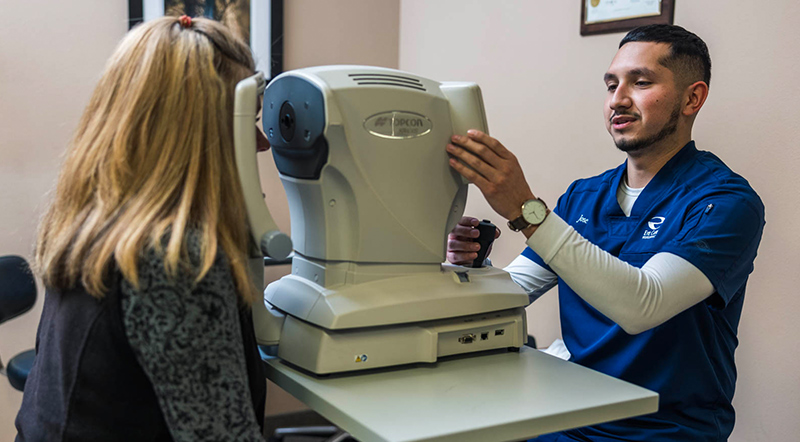 Laser Vision Correction
LASIK is today's most widely performed type of vision correction. Our LASIK surgeons get amazing results for our patients.
Cosmetic Procedures
With our Icon™ laser technology, we can improve your skin quickly and easily removing brown spots and sun damage.