NORTHERN NEVADA'S
PREMIER LASIK PROVIDERS
Leaders in experienced, state-of-the-art medical and surgical care for the eyes.
ABOUT US
Trust Eye Care Professionals with Your Patients
Eye Care Professionals has been proudly serving the eye care needs of Reno and the surrounding areas since 1954. Our practice is dedicated to providing the highest level of ophthalmic surgical care possible across a number of areas including cataract, refractive and glaucoma, and LASIK.
OUR AREAS OF SPECIALIZATION INCLUDE:
All-Laser Wavefront Custom LASIK & PRK
Femtosecond Precision LASER Cataract Surgery
Astigmatism Correction with Toric IOLs
Presbyopia Correcting IOLs including PanOptix MTF and Vivity EDoF IOLs
Refractive Lens Exchange
Implantable Collamer Lenses (ICLs)
MIGS Surgery including iStent and OMNI
SLT laser
The Partnership Between Eye Care Professionals and ODs
For more than 20 years, Eye Care Professionals has developed a very collaborative practice for our referring ODs. We work to actively co-manage patient care in all of our surgical interventions with the patient's OD to ensure comprehensive patient care and optimal outcomes. Our owner and primary opthamologist, Dr. Matthew Mills has given several COPE certified CE presentations at meetings of the Nevada Optometric Society both locally as well as statewide. We believe strongly in the importance of OD-MD working relationships and we are committed to this model of care. Additionally, Dr. Mills has worked with numerous ODs assisting them in achieving Glaucoma Certification status.
Our Eye Care Professionals team also includes Dr. Thomas (Tam) Conklin who joined the practice in 2017 and has been practicing in Reno throughout his career. Dr. Conklin now serves primarily in a medical ophthalmology role while still performing in-office procedures and lasers. Additionally, our team includes two clinical optometrists, Dr. Leyla Mirbaha and Dr. Quan Vong. Dr. Leyla Mirbaha has been with Eye Care Professionals since 2008, and we are thrilled to have added Dr. Quan Vong in 2019 after the completion of his clinical externship program at the Reno VA Eye Clinic.
WE LOOK FORWARD TO WORKING WITH YOU & CARING FOR YOUR PATIENTS!
EYE CARE PROFESSIONALS
TREATED EYE CONDITIONS
Protect and preserve your patient's vision, eye health and quality of life. We strive to provide the most thorough and effective eye care possible. And our ophthalmologists, optometrists and friendly, knowledgeable staff treat your patients with the compassion and commitment they deserve.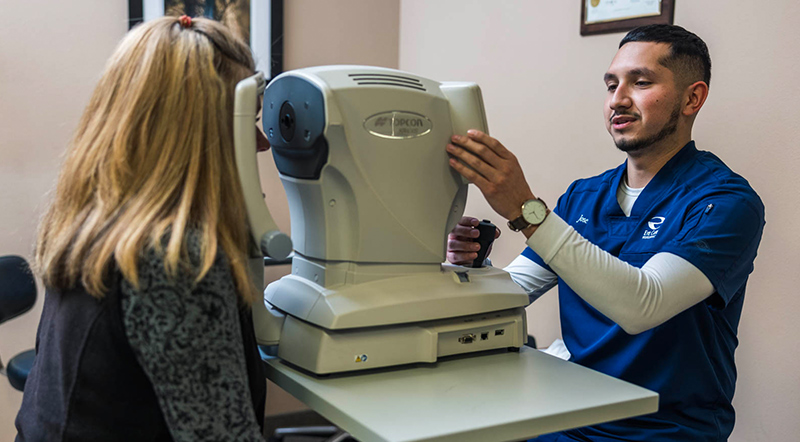 Glaucoma Care
Our ophthalmologists specialize in preserving the vision of patients with glaucoma through glaucoma laser surgery & MIGS procedures including OMNI, iStent and Hydrus implants.
Laser Cataract Surgery
LenSx laser refractive cataract surgery creates a custom solution for each individual patient, making the placement of the intraocular lens incredibly precise.