PREMIER LASIK PROVIDERS
Leaders in experienced, state-of-the-art medical and surgical care for the eyes.
LASER VISION CORRECTION SERVICES
Refractive Surgery
Vision correction procedures can help you reduce or eliminate your dependence on eyeglasses and contact lenses. Today's leading-edge methods improve your options as well as the quality of your postoperative vision. Refractive errors of the human eye include myopia, hyperopia, astigmatism, and presbyopia, and can be corrected through different procedure types of refractive surgery.
At Eye Care Professionals, we are recognized leaders in refractive surgery techniques. Our reno ophthalmologists are among the region's most experienced vision correction surgeons. Our team is made up of some of the leading experts in LASIK surgery and other correction techniques in Reno. Through the years, we have helped improve the standard of care and treatment outcomes.
In addition to our involvement in refractive surgery since its early days, we remain at the forefront of the field. We use state-of-the-art techniques we introduced and which, still, few others offer. These include LASIK surgery and photorefractive keratectomy (PRK) procedures. Additionally, we offer innovative options such as implantable collamer lenses (ICL), refractive lens exchange (RLE), and KAMRA corneal implants.
LASIK Surgery
The standard of care… performed to a new standard
Laser-assisted in situ keratomileuses (LASIK) eye surgery is the most widely performed type of vision correction. It consists of creating a flap in the cornea, then using a laser to precisely sculpt the cornea to the correct shape. LASIK surgery is a brief procedure that requires only a few minutes.
This type of refractive surgery can correct vision problems such as nearsightedness, farsightedness, and astigmatism. Our Reno ophthalmologists introduced Wavefront LASIK vision correction, which maximizes precision and individualizes the correction for each patient, optimizing results. We were also among the first in the area to use the IntraLase LASIK method.
Today, we remain one of very few providers utilizing these more exacting approaches using femtosecond Laser technology. We use this technology to create the LASIK flap rather than the older mechanical microkeratome.
Comprehensive Options, Including State-of-the-Art Procedures
Similar to LASIK, photorefractive keratectomy (PRK) involves laser reshaping of the cornea. However, with PRK, the reshaping happens directly to the cornea's surface rather than "in situ" through an open flap. While less common, PRK is still more appropriate for certain people.
In addition, our Reno ophthalmologists offer the latest advancements, which include implantable collamer lenses (ICLs), refractive lens exchange (RLE) and KAMRA corneal implants.
ICLs (Implantable Collamer Lenses) and RLE (Refractive Lens Exchange)
To put it simply, our skill and experience make it possible to implant specialized "contact" lenses inside the eye over its natural lens. And for certain other individuals, we may recommend that we exchange the natural lens for an advanced intraocular lens implant. Thanks to our unsurpassed experience and capability with techniques commonly used in cataract surgery our patients experience excellent outcomes with lasting visual improvements from both of these procedures. We are among an elite group and a small minority of area providers offering ICLs and RLE.
Reliable Refractive Surgery in Reno, NV
Considering refractive surgery or laser vision correction to reduce your dependence on glasses or contact lenses? See your best with the most advanced care from the team who set the standard for precision and excellence. Whether you're interested in LASIK or PRK, our expert and renowned eye surgeons can help. Call Eye Care Professionals today to schedule an appointment.
About
Refractive Surgery
Is
Refractive Surgery
the Same as LASIK?
Yes, LASIK surgery is a type of refractive correction procedure that involves using a laser to correct the shape of the cornea. This procedure is recommended for people suffering from nearsightedness, farsightedness, and astigmatism. It's a quick and painless procedure with a high success rate, and easy recovery.
Is
refractive surgery
permanent?
For most patients, the results of this procedure lasts a lifetime. Around 94% of patients stated they didn't need prescription lenses 5 years after undergoing this procedure. A smaller portion of patients might need to use reading glasses years after the surgery, and others can opt for an enhancement surgery to recover their full, lens-free vision.
Founded in the 1950s, Eye Care Professionals has a long tradition of setting Northern Nevada's standard for excellent medical eye care. And our highly experienced ophthalmologists remain at the forefront of the field.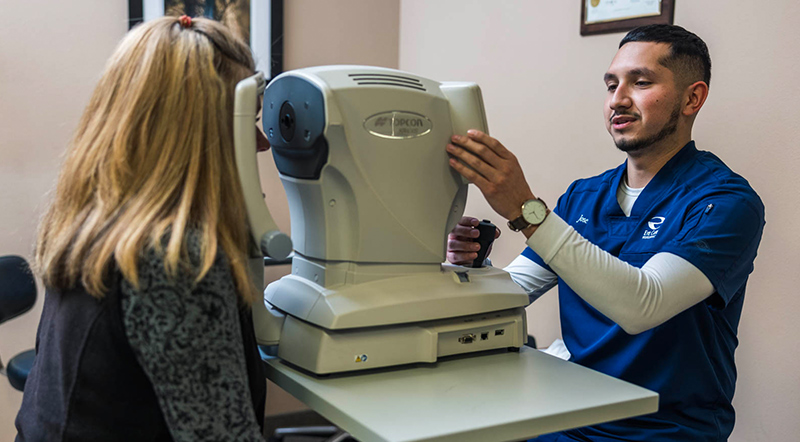 All About Lasik
LASIK is today's most widely performed type of vision correction. Our LASIK surgeons get amazing results for our patients.
Cataract Surgery
Eye Care Professionals specializes in cataract surgery. Our expert surgeons are leaders in laser cataract surgery to restore your vision.