NORTHERN NEVADA'S
PREMIER LASIK PROVIDERS
Leaders in experienced, state-of-the-art medical and surgical care for the eyes.
MEDICAL AND SURGICAL CARE
Our Services
Eye Care Professionals offers the complete range of today's most advanced and effective vision procedures. We introduced many of them in Reno and are the area's most experienced with many of them. Here are some of the advanced and complete capabilities we offer:
EYE CARE PROFESSIONALS
LEADING-EDGE EYE CARE
Eye Care Professionals has established a reputation for excellence in all aspects of patient care as well as surgical outcomes.  We feel very fortunate and privileged to be able to participate in the all-important work of preserving, restoring and improving vision for our patients! 
EYE CARE PROFESSIONALS
PATIENT TESTIMONIALS
I wanted to thank Dr. Mills so much for taking such good care of me for my LASIK eye surgery. I feel so lucky and blessed to have my vision clear and crisp. and I owe it all to Eye Care Professionals.  You truly do have a lovely office and staff, and I wouldn't hesitate to recommend you all to anyone in need of your service. Once again, thank you!
This has truly been a life changing experience for me. For the first time since I was a little girl I was able to see after my LASIK procedure! Not only could I see, but I could see better than I could with my contacts. It truly felt like a miracle. At my follow-up exam, I was told I now have 20/15 vision in my left eye and 20/20 in my right. Dr. Mills did it! He gave me my sight back.
I highly recommend the services of Dr. Mills and his wonderful staff at Eye Care Professionals. My cataract surgery was as pleasant an experience as one can have in a surgical situation. The surgical teamworks together like a fine tuned machine and puts the patient in a very relaxed frame of mind. These folks really know their business and are extremely professional. Highly recommended.
EYE CARE PROFESSIONALS
TREATED EYE CONDITIONS
Protect and preserve your vision, eye health and quality of life. We strive to provide the most thorough and effective eye care possible. And our ophthalmologists, optometrists and friendly, knowledgeable staff treat you with the compassion and commitment you deserve.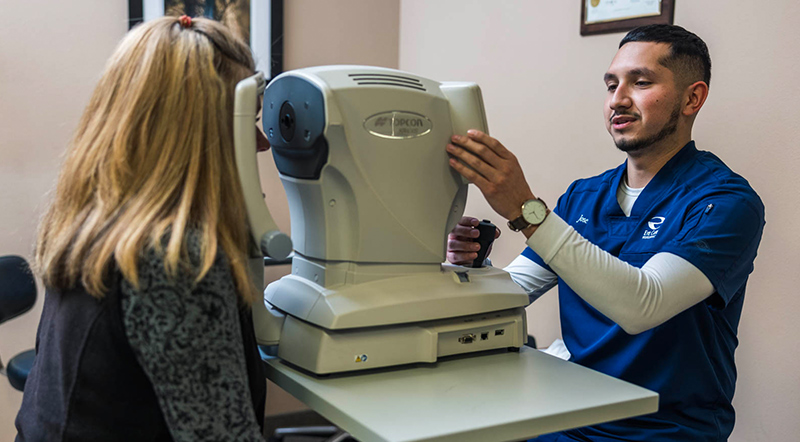 Glaucoma Care
Our ophthalmologists specialize in preserving the vision of patients with glaucoma through glaucoma laser surgery & MIGS procedures including OMNI, iStent and Hydrus implants.
Laser Cataract Surgery
LenSx laser refractive cataract surgery creates a custom solution for each individual patient, making the placement of the intraocular lens incredibly precise.